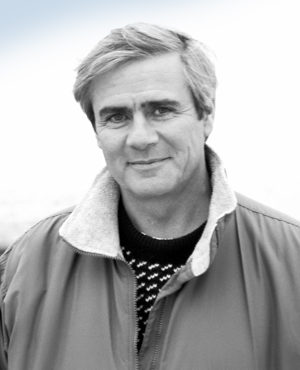 Terry Mort has degrees in literature from Princeton University and the University of Michigan. After graduate school he served as an officer in the Navy. He is the author of seven novels and six works of non-fiction, with more projects still to come, with luck.

Read reviews from publications and readers about Terry's books and what others had to say about your next favorite read.

Read news, updates and just more about things that I find interesting as you dig in on the blog for the most recent notes from Terry's world.

Explore the various collections and find something from mysteries to fascinating histories and discover your next great read.
$

19.50
This novel is the latest in the series featuring Riley Fitzhugh. With the advent of the Second World War Fitzhugh leaves his private detective business in Los Angeles and joins the Navy. He goes through officer training and gets assigned to the PC 475, an anti U-boat vessel. The 475 is nicknamed The Nameless by her crew, because patrol craft were only given numbers. The ship patrols the Gulf of Mexico during the early days of the war. Fitzhugh and the Nameless uncover and destroy German supply station in northern Cuba and track the crew of a damaged U boat. Along the way Fitzhugh has a few adventures in Havana, where he meets both Ernest Hemingway and his glamorous wife, Martha Gellhorn.
UPDATES& NEWS
From The Blog
Join war historian, writer, and broadcaster, James Rogers as he teams up with fellow historians, veterans, and experts to reveal astonishing new histories of inspirational leadership, breakthrough technologies, and era defining battles. The Battle of Beecher Island September 1868, 3 years after the Civil War, saw an outnumbered United States Army patrol against six hundred [...]
Upsmanship Everyone has heard of 'gamesmanship.'  So too, 'oneupsmanship.'  Fewer people, unfortunately, know the creator of these terms, or the books that made them famous. The author was Stephen Potter.  Potter was born in 1900 and died too young (as everyone, aside from a few well-known politicians, seems to do) at the […]
A Primer on Pronouns After their careers are over, many athletes move to the television or radio studio.  There, they apply their often eccentric version of the English language to the job of explaining an off-tackle dive play or a dunk – as if these things are complicated. Well, no one expects […]
Orwell Redux I read somewhere that sales of George Orwell's 1984 have risen lately – perhaps in response to the federal government's snooping into the cyber world of American citizens.  It's not at all hard to imagine a tool like the internet being used in a sinister fashion.  Orwell's Big Brother would have killed […]
Hemingway & Woody Allen: An Odd Couple The other night I watched "Midnight in Paris," Woody Allen's movie about a time traveler who returns to Paris in the Twenties and runs into all the big name ex-pat artists.   It's a nice idea and one that most any writer wishes were possible, for that period […]
"" As the author of THE HEMINGWAY PATROLS, Terry Mort knows his subject and has employed many print and on-line sources on Hemingway, his wives, his antebellum and postwar life and experiences, as well as related World War II subjects. " "
""Simply as a narrative of Western warfare, Mr. Mort's lucid, often beautifully written book is a pleasure to read. But he also poses questions that take his story to a deeper, morally challenging plane..." "
"" Historian Mort (The Wrath of Cochise: The Bascom Affair and the Origins of the Apache Wars) turns his eye to Lieutenant Colonel George Armstrong Custer's 1874 expedition through the Black Hills in present-day South Dakota and Wyoming..." "
Sign Up for Email Updates
Be The First to Know...